School Meals Menu & Information
Is your child eligible for Free School Meals?
How do I find out ?
You may be eligible to claim free school meals for your child, up to the age of 19-years-old, if you (or your child) get one of the following:
Income support
Income-based Jobseeker Allowance
Support under part VI of the Immigration and Asylum Act 1999
Child Tax Credit (provided you're not also entitled to Working Tax Credit and have an annual gross income of no more than £16,190)
Working Tax Credit run-on (paid for the 4 weeks after you stop qualifying for Working Tax Credit)
The guaranteed element of State Pension Credit
Universal Credit
To claim a free school meal you should ask your child's school or nursery for an application form. You will need to complete the form and return it to the school/nursery, along with evidence to support your application.
For more information on school meals, please see cityserve our school meals provider.
To apply for free school meals follow the link here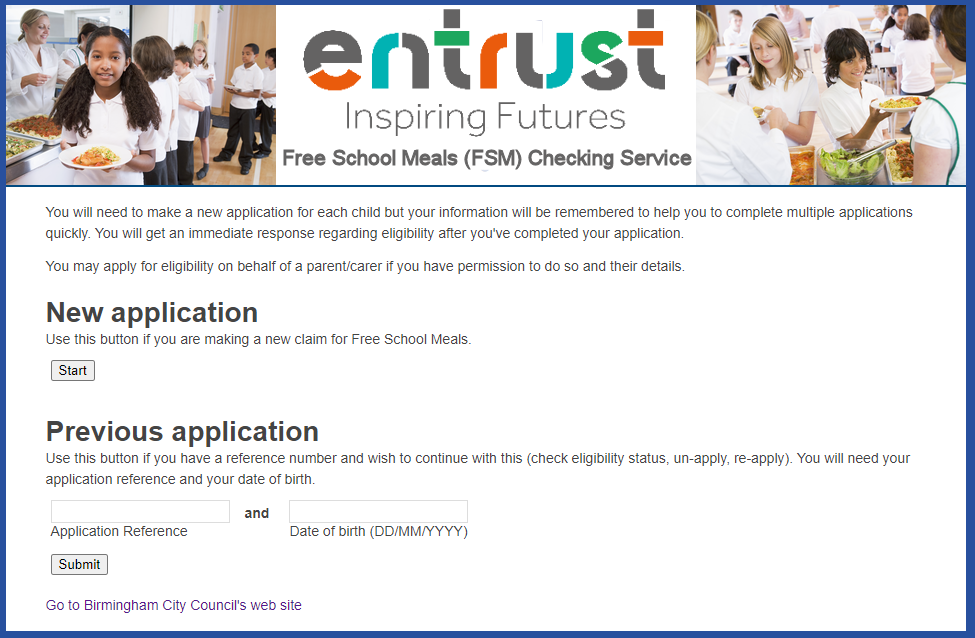 Web address: https://www.cloudforedu.org.uk/ofsm/birmingham/
Cited: BCC - 20/11/2019
If your application for Free School Meals is successful, Dame Ellen Pinsent School will also receive extra funding from the Government to use in support of teaching and learning (Pupil Premium).
If you would like to apply for Free School Meals you can:
Apply online at www.cloudforedu.org.uk/ofsm/birmingham
Telephone the school office with your name, date of birth and national insurance number. School will then carry out the on-line check for you and let you know the outcome.
Log on to the school website www.dameellenpinsent.bham.sch.uk for information on how pupil premium is allocated.
Menu
Our school menu is on a three-week rolling programme. There is also a Daily Specials menu.
Please use the menus and information below to see what your child may choose from each day.
Week 1 - Weeks Beginning
12th September, 10th October, 14th November, 5th December, 16th January, 13th February, 20th March, 1st May, 5th June, 3rd July
Week 2 - Weeks Beginning
19th September, 17th October, 21st November, 12th December, 23rd January, 27th February, 27th March, 8th May, 12th June, 10th July
Week 3 - Weeks Beginning
26th September, 31st October, 28th November, 2nd January, 30th January, 6th March, 17th April, 15th May, 19th June, 17th July
Week 4 - Weeks Beginning
3rd October, 7th November, 9th January, 6th February, 13th March, 24th April, 22nd May, 26th June