Class topics
ECO/Nursery Rhymes
Our topic for Spring 2 2023 is 'Eco'/Nursery Rhymes. We will be focusing on how we can help the planet, and our learning will be centred around the book 'Please Help Planet Earth' and focusing on 1 Nursery Rhyme for 3 weeks.
We will be doing activities around these Nursery Rhymes.
Use the links below if you would like to listen to the songs at home!

CBeebies| Something Special | Twinkle Twinkle Little Star - YouTube

Makaton - THE WHEELS ON THE BUS - Singing Hands - YouTube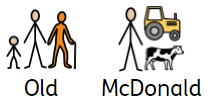 Makaton - OLD MACDONALD HAD A FARM - Singing Hands - YouTube

Five Little Sandcastles - YouTube