New News Story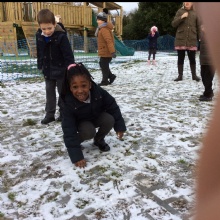 "Do you want to build a Snowman?"
January brought about a light dusting of snow that was enough to get excited about. The children wrapped up warm and explored the grounds to see how much of the white stuff they could find.
As part of our "Do and Discover" curriculum, we had fun exploring it! Some had written their names or drew pictures. Others enjoyed running sticks through it and stomping around in their wellies.
By lunchtime most of it had gone. However, it was a great experience while it lasted.